ELEGANCE RANGE: STYLE AT YOUR FINGERTIPS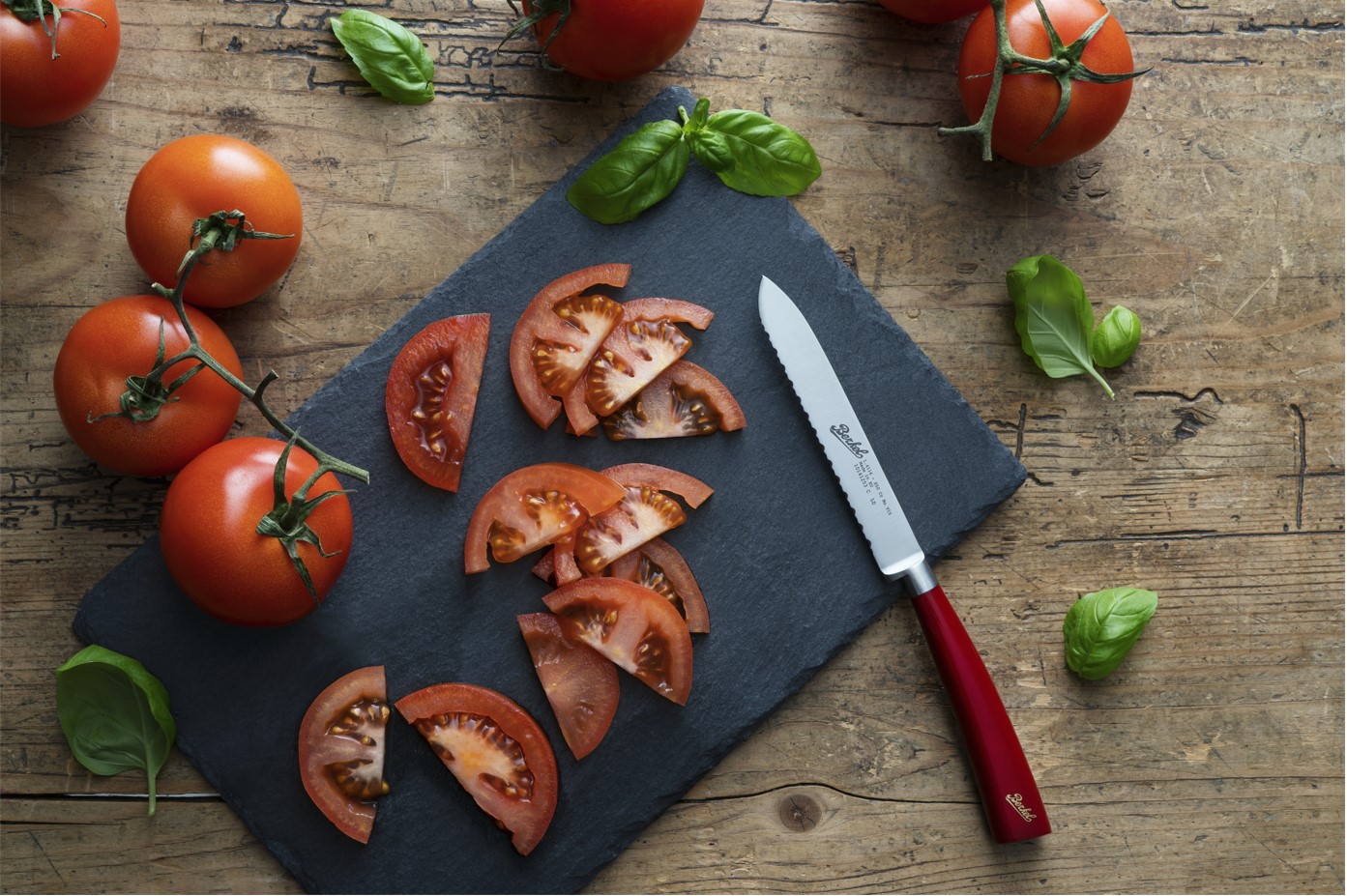 Unique design and precise cut
Quality and performance without compromising beauty. The knives from the Elegance range have a 1.4116-X50 Cr Mo V15 steel blade, and an acetal resin handle to ensure an easy, precise cut as well as maximum stability and balance.
The blade is obtained by electrical upsetting, i.e., a modern system that consists in passing high-density electric current through induction on a steel workpiece. Then a press gives the shape to the knife. This way, the steel fibers gain strength and provide improved mechanical resistance to the finished product. Moreover, by heating just the targeted area, the high physical characteristics of the remaining part remain unaltered.

The knife's glossy handle provides a unique appearance, embellished by the logo. High-pressure injection moulding used for the handles ensures higher density and thus higher hold and resistance, even in case of accidental impacts. Elegance knives are perfect for those who love design and want to add an elegant touch to the kitchen.
TEKNICA RANGE: PROFESSIONAL PERFORMANCE AT HOME
Ergonomic design and cutting performance
ERGONOMICS at the core of the Teknica project. The handle is designed and optimised by industry experts.
The advantages?
- Drastic reduction of physical stress, even in case of prolonged use.
- A firmer grip means increased safety. The special thermoplastic polymer with a "rough" finish ensures a firm grip even when it's wet.
- The double anti-slip texture of the handle accentuates the grain on the grip making it even firmer.
- An outstanding balance given by the steel balls embedded in the handle, which counterweight large blades.
The high-quality blade made of 1.4116-X50 Cr Mo V15 steel (3 mm thick) ensures excellent CUTTING. These knives ensure a precise cut and high resistance. This is possible, thanks to a thermal treatment that makes the steel super hard, providing the perfect balance between rigidity and flexibility.
ADHOC RANGE: TIMELESS KNIVES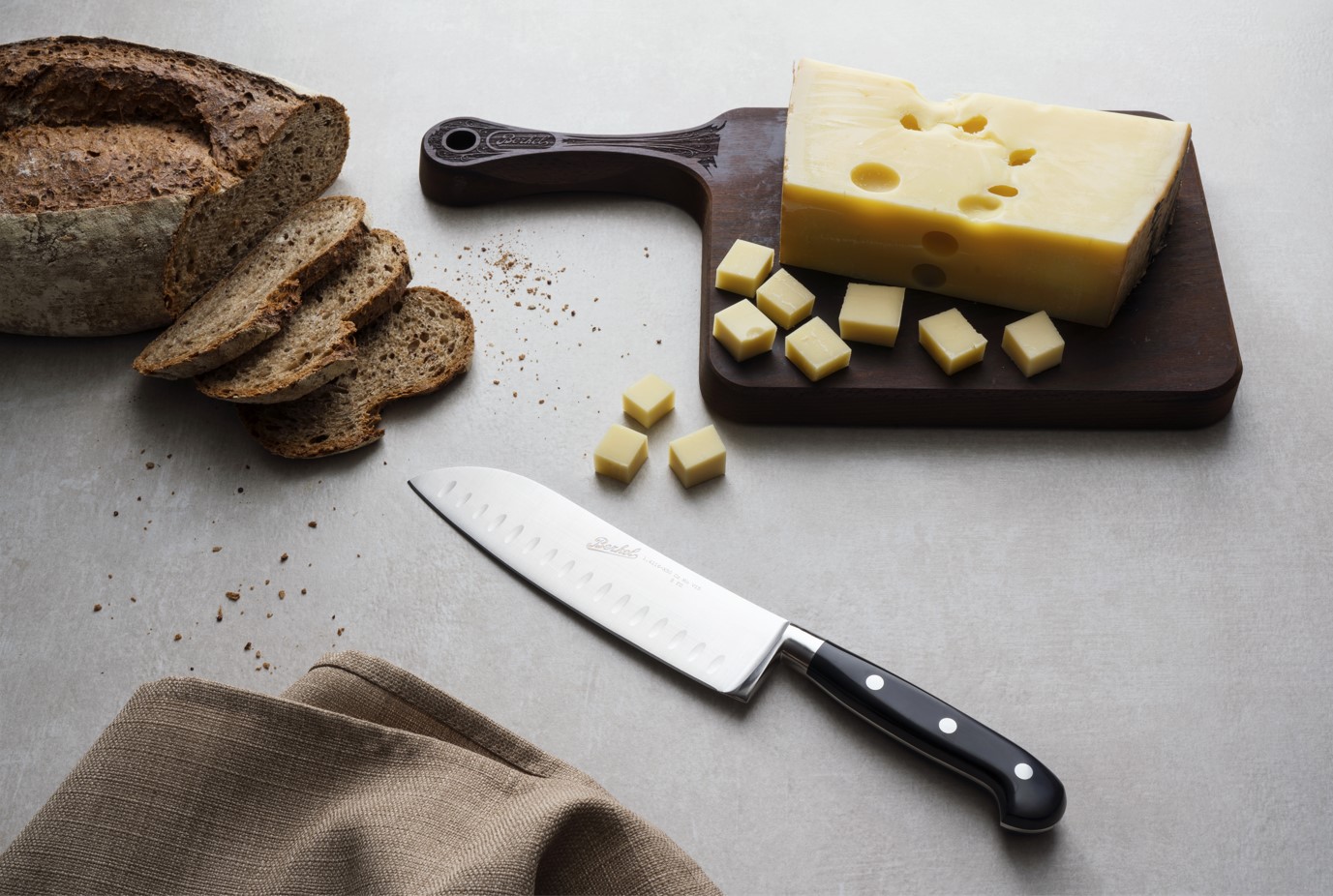 Cutting performance as per tradition
Classic design, modern performance The Adhoc range is the ideal solution for cooks who love a knife with personality. The high quality 1.4116 X50 Cr Mo V15 steel blades ensure optimal hardness, durability, corrosion resistance, and an impeccable cut. The polymer handle is fixed to the blade with 3 rivets, reducing shear stress. Adhoc knives are ideal for those who love traditional design, solidity, and easy-of-use.
BLOCKS, COLLECTION KNIVES AND CHAMPAGNE SABRES
PRIMITIVE KNIFE
Primitive's essential design ensures a precise cut and makes it super easy to handle. Its design makes it ideal for cutting fruit and vegetables or slicing raw meat and fish.
POCKETKNIVES AND OUTDOOR KNIVES
Berkel artisans have created a series of exclusive knives. The types of steel used for the blades and the finest materials for the handles make these knives true collectables.
CHAMPAGNE SABRES
A luxury accessory for tasting Champagne, Spumante, or any other sparkling wine. Used by experts, this compact sabre can make sharp cuts to open bottles in a spectacular way.
THE WHY BLOCK
Sinuous walnut wood block. It contains a set of 6 knives for bread, roast, paring, ham, boning and cooking.
THE SENSE BLOCK
A wooden block covered with dyed leather. It contains a set of 5 knives from the Elegance range to have the perfect knife for slicing bread or roast. Paring and kitchen knives allow a wide variety of basic preparations.
THE BAG BLOCK
Multilayered lacquered wooden blocks available in Berkel's traditional colours: red, black and white. It contains up to six knives, even large ones. The Bag block ensures maximum hygiene since its internal material can be removed and washed in the dishwasher.