Essentia gravity slicer BEG300
Cod.Art. BKBLEGB50100000000
Robust slicer with large cutting capacity designed to minimize operator effort. The precision of the blade and reliable motors for continuous and intensive work allow significant cost savings of your business management.
Read more
Disclaimer
Some details may be different from those shown in the photos. All prices include VAT.
Free Shipping over 150€ for all EU Countries
Details
Essentia: the name is everything: the designing essence of the Berkel professional electric slicers has been accurately distilled in this line of products. Being the door to enter into the Berkel professional world the Essentia Line has been designed mainly for the Retail and Ho.Re.Ca. although it could represent a valid solution for the Supermarkets needs. Great slicing performance, highest safety standard and easy of cleaning are the Berkel DNA inside every machine and also inside the Essentia slicers to get easy of use and fast slicing operations with a related operational cost reduction. The elegant Berkel design, made of smooth rounded lines, lack of hedges and high performance materials, is enhanced in this line of slicer thanks to all the red techno polymer details and the minimal shape. Essentia is available in all the technical configurations (Gravity, Vertical Salumeria, Vertical Macelleria and Delicatessen) with different blade diameter selection from 300mm to 370mm.
Performance
C45 steel blade for a great cut and for a long lasting of the sharpening
Increased baseplate thickness and stainless steel feet with anti slippery rubber inserts for total stability during slicing operations
38 ° graded food plate to facilitate the passage of the material and the fall of the slice (on Gravity models)
IP34 motor and watertight electrical box for a full protection from liquids during cleaning operations
Belt transmission for the maximum flexibility in case of accidental resistance during slicing operations
IP65 stainless steel sealed control panel and food-grade silicone gaskets on each exposed part
Very thin residual product to minimize wasted material
Gauge plate opening knob with 14 millimetric adjustment positions for an accurate regulation
Gauge plate with an oblique 15 ° opening to facilitate the way out of the product while slicing (on Gravity models)
Easy removable steel deflector
Removable sharpener included with a two separate movements operating system to increase sharpening precision
370mm blade fitted on the 350mm version baseplate to minimize overall dimensions
Cleaning and hygiene
Aluminum alloy baseplate made out a single mold obtaining absence of gaps
Liquid collection tray integrated in the casting or inside the food plate for perfect hygiene and cleaning
Inclined gauge plate drainer for clearing of liquids (on Gravity models)
Removable stainless steel or red techno polymer food plate and product press holder with stainless steel tacks for perfect hygiene and to speed up cleaning operations
Wide space between blade and motor to facilitate and speed up cleaning operations
Food plate lifting system to facilitate cleaning operations (on Vertical models)
Safety
Complete closure of the gauge plate for maximum safety during cleaning operations and CE Block to prevent its opening when the plate is out of place
Assisted product press holder opening system (on Vertical models) to prevent accidental release and for an easy product positioning
Disarmed position of the meat press to prevent accidental release (on Gravity models)
ON/OFF switches with high visibility LEDs
Aluminum ring guard for increased safety
Techno polymer ergonomic controls in comfortable position to minimize operator efforts
Stainless steel IP65 control panel with flush ON button to prevent accidental starting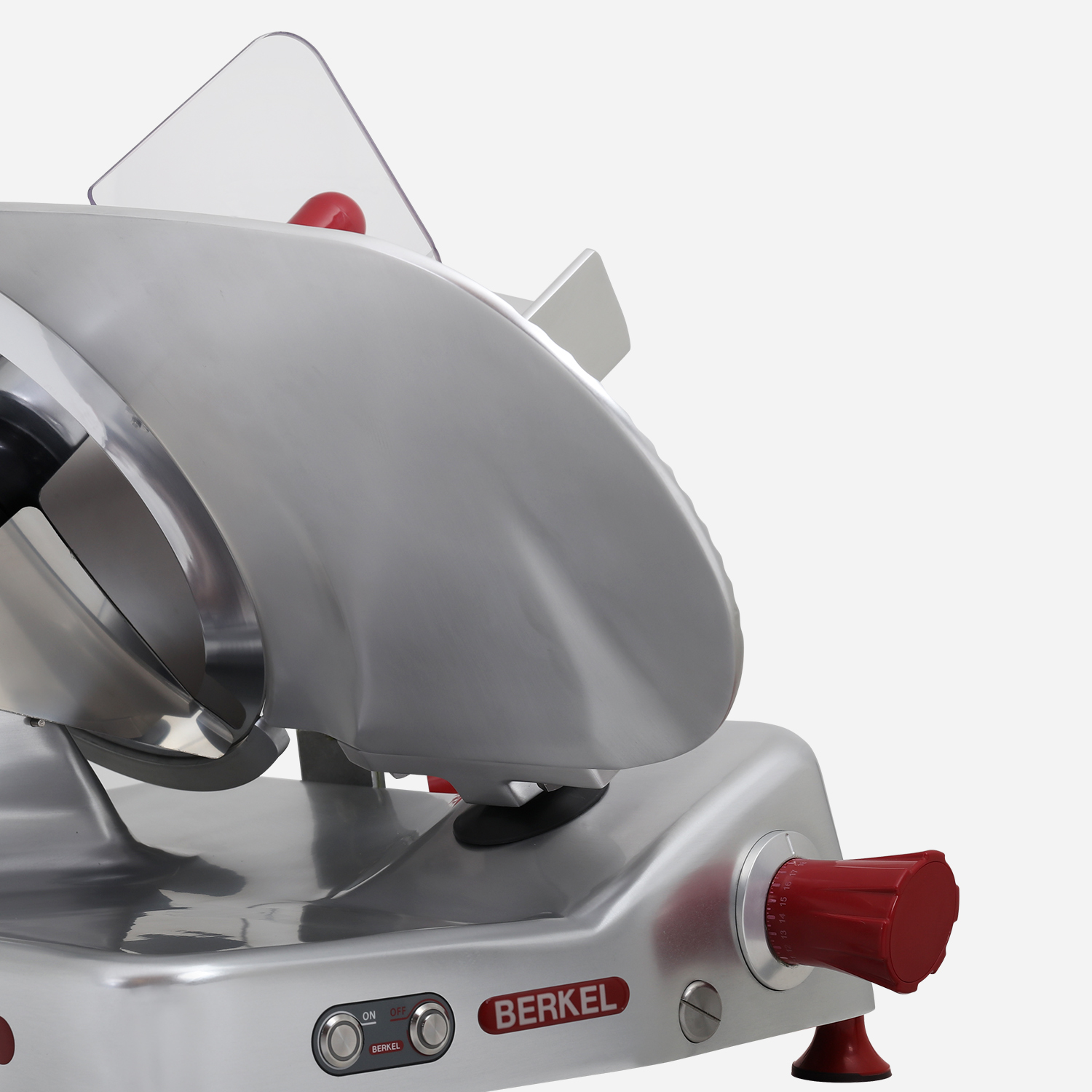 Technical data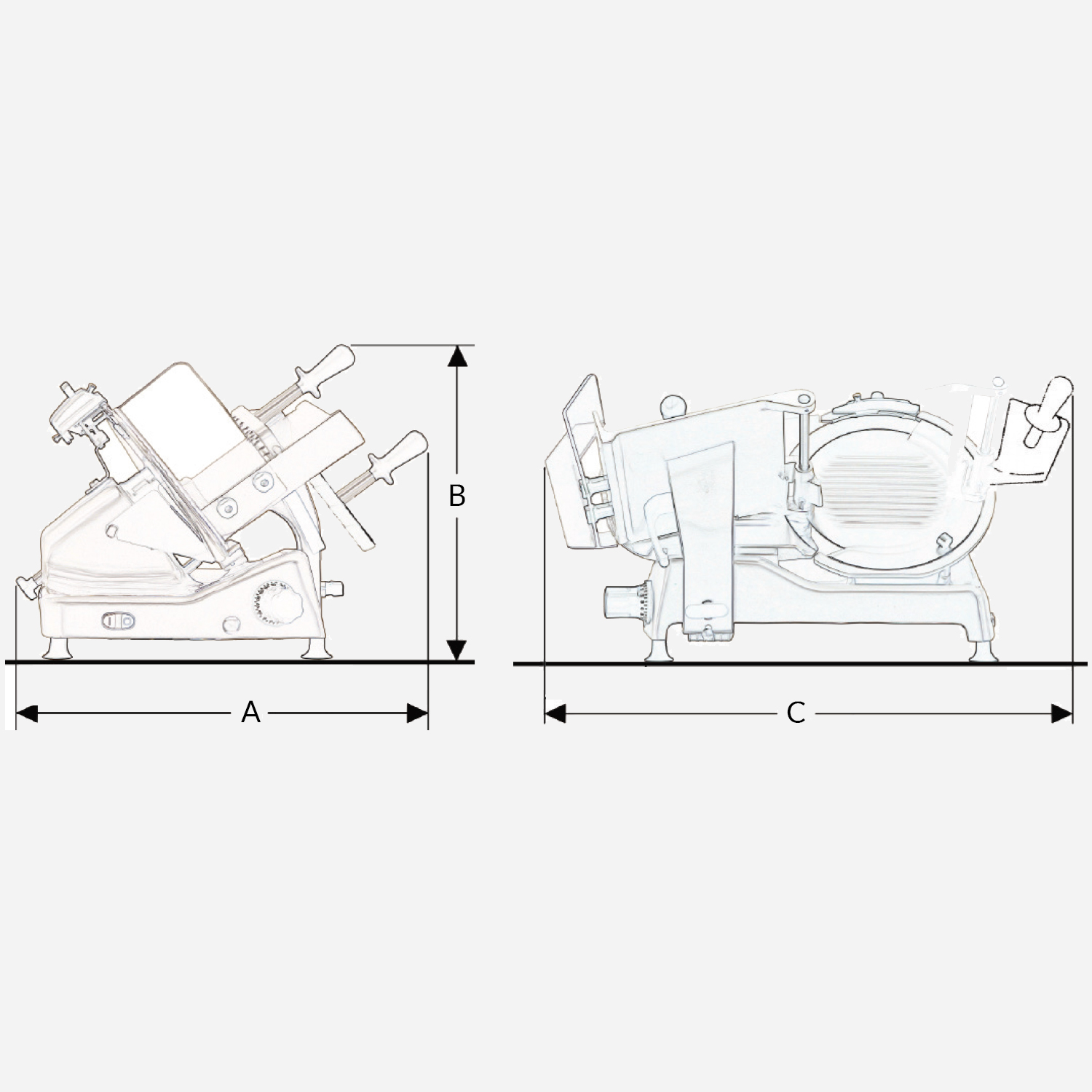 Blade diameter

300 mm

Plug

Cable supplied with EU plug

Electrical specs

230V 50Hz 1PH 400V 50Hz 3PH 120V 50Hz 1PH 220V 60Hz 1 PH

Motor rating

belt 0,25-0,35 kW gear 0,25-0,30 kW

Blade material

100Cr6

Cut thickness

0 - 14 mm

Cut Capacity Circle

200 mm

Cut Capacity Rectangular

240x170 mm

Details

38° inclined blade; Belt transmission; red plastic handles, plexiglass safety guard

Removable parts

slice guard deflector; Blade guard disk; meat table carriage, press holder

Sharpener

included, 2-movements type
Add to Compare
Shipping charges
Shipment
Costs
Times
Europe
FREE*
Delivery in 6 - 10 working days upon receipt of payment**
Non-UE
Charged to the recipient,
according to the country of destination
A Berkel product is a splendid gift; for each order received and paid still 14th December, delivery is guaranteed by 23rd December.
From December 22th to January 7th inclusive, Berkel's logistics will have limited possibilities to arrange shipments.
Merry Christmas by Berkel!
*Shipping is free of charge for all EU Countries, for orders over € 150.00. Shipping costs are charged to the customer for all orders under this amount.
**Deliveries are made on working days, from Monday to Friday. No deliveries on holidays. For more exclusive products such as manual volano flywheel slicers, delivery times may vary and will be communicated upon receipt of payment. Delivery in Russia is not allowed.
-
Customer Care
For more information on the products, on the purchase, for assistance and spare parts you can
fill out the form