Home use slicer Red Line 250 White
Tradition meets innovation
The electric slicer with all the Berkel quality and professionalism and now innovative design. Reduced dimensions, ease of use and state of the art solutions ensure a perfect cut every day.
Read more
Disclaimer
Some details may be different from those shown in the photos. All prices include VAT.
Power cord supplied with EU plug; write here for more information.
Free Shipping over 150€ for all EU Countries
Details
Performance
Very thin residual product to minimize wasted material
Gauge plate opening knob with 14 millimetric adjustment positions for an accurate regulation
Inclined food plate for an effortless and more precise slicing
Chromed steel blade with professional profile: reduces waste and ensures perfect slices
0,25 CV (0,42 CV for the 300 version) professional engine for great slicing performance
Steel deflector for a better slices removal
Specific aluminum alloy casting and polymer feet for total stability during slicing
Fully IP65 sealed control panel
Integrated sharpener with a two separate movements operating system to increase sharpening precision
Cleaning & Hygiene
Casting made out of a single mold obtaining absence of gaps
Fast food grade aluminum blade cover removal system for an easy cleaning of the blade
Professional food plate with a quick detachable system for an easy machine cleaning
Wide space for fast and easy cleaning
Safety
Professional control panel, ON/OFF switches with high visibility LEDs
Food grade aluminum ring guard for best safety
Ergonomic controls in comfortable position to minimize any effort for the operator
Complete closure of the gauge plate for maximum safety during cleaning operations and CE Block to prevent its opening when the plate is out of place
Aluminum, with steel spykes, product press holder with disarmed position to prevent accidental release
Automatic shutdown of the machine in case of power failure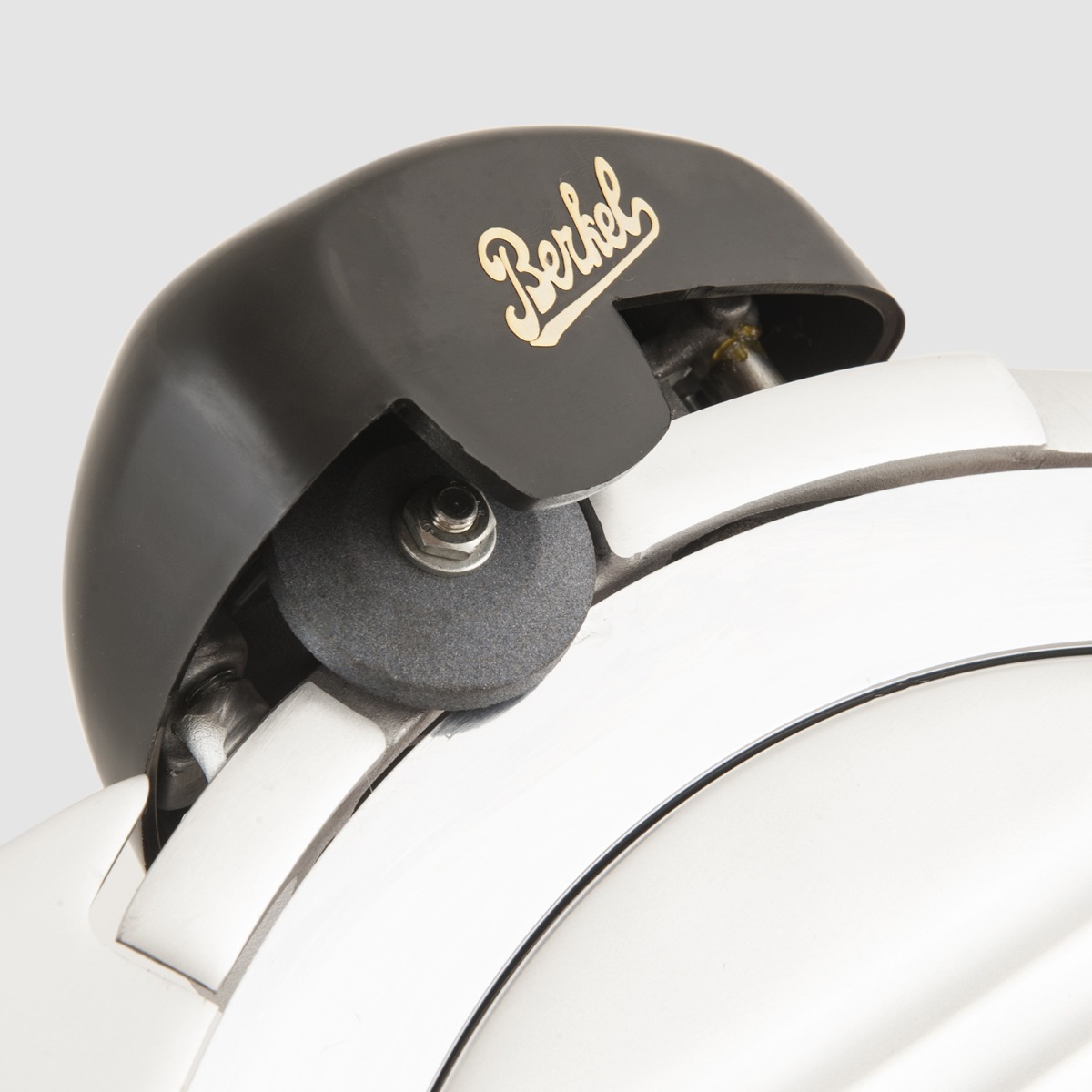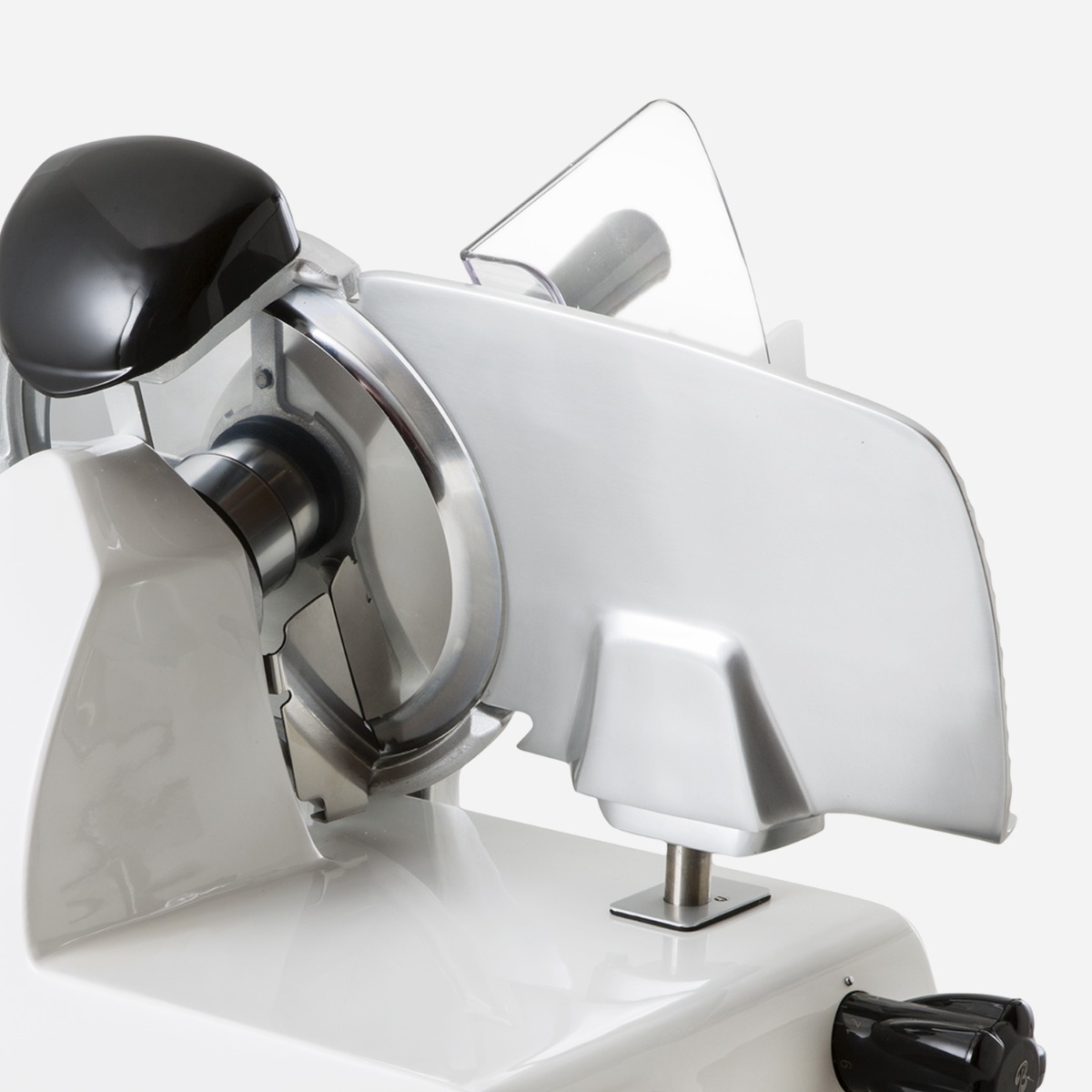 Technical data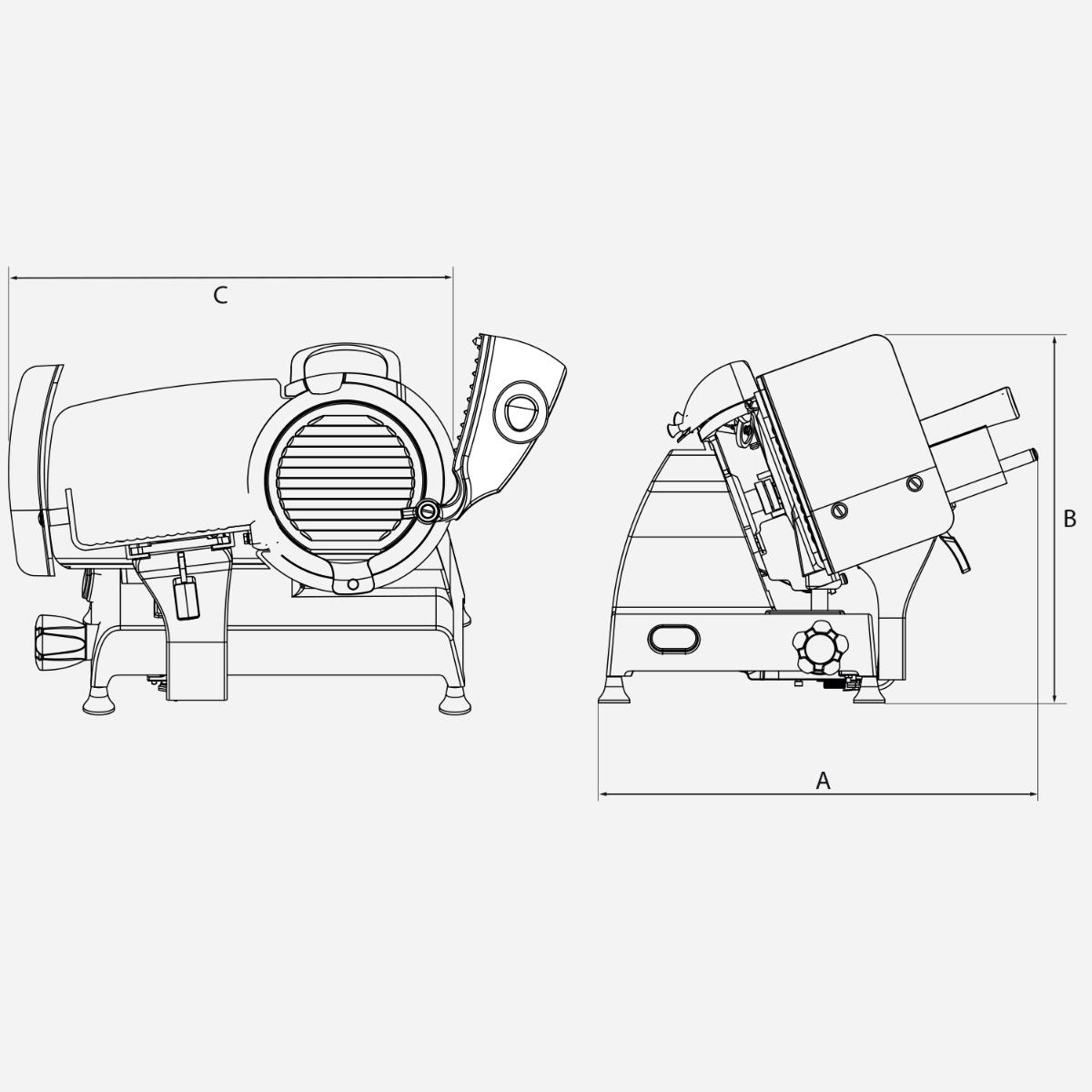 Blade diameter

250 mm

Plug

Cable supplied with EU plug

Electrical specs

230 V 50 Hz

Motor rating

0,19 kW

Cut thickness

0 - 14 mm

Cut Capacity Circle

178 mm

Cut Capacity Rectangular

185X175 mm

Removable parts

Blade guard disk, meat table, slice guard deflector

Sharpener

included, 2-movements type

Blade remover

wide spaces for cleaning: no need to remove the blade
Add to Compare
Shipping charges
Shipment
Costs
Times
Europe
FREE*
Delivery in 6 - 10 working days upon receipt of payment**
Non-UE
Charged to the recipient,
according to the country of destination
*Shipping is free of charge for all EU Countries, for orders over € 150.00. Shipping costs are charged to the customer for all orders under this amount.
**Deliveries are made on working days, from Monday to Friday. No deliveries on holidays. For more exclusive products such as manual volano flywheel slicers, delivery times may vary and will be communicated upon receipt of payment. Delivery in Russia is not allowed.
-
Customer Care
For more information on the products, on the purchase, for assistance and spare parts you can
fill out the form