Flywheel manual slicer P15 Red
Cod.Art. BKP15VBM00000000FR
Excellence in your home
The new P15 flywheel meat slicer is a reproduction of the historic P model of the '40s and encompasses its perfect cut, unique craftsmanship, elegance, and tradition. Berkel rewrites its history.
Read more
Disclaimer
Some details may be different from those shown in the photos. All prices include VAT.
Free Shipping over 150€ for all EU Countries
Details
Performance
Reproduction of the iconic model P15 from the '40
High quality cast iron structure with high-gloss polished aluminum and stainless steel parts and rubber feet for total stability during slicing
Small in size, take up minimum space
Classic Berkel flywheel internally balanced to prevent unintentional rotation in any position
285mm 100cr6 chromed steel blade with professional profile: reduces waste and ensures perfect slices
Food plate quick advance and returning system combined with a manual millimetric knob for perfect product positioning
Classic Berkel design of the tower, combining elegance and robust design
Gold color decorations to enhance varnished parts
Built-in sharpener with exposed chrome finishes
Gauge plate opening knob to adjust slice thickness from 0mm to 3 mm
Very thin residual product to minimize wasted material
Steel deflector for a better slices removal
Cleaning & Hygiene
Stainless steel professional food plate with a detachable system for an easy machine cleaning
Product chromed steel press holder composed by two opposed columns crossed with friction knobs and connected by a serrated arm acting on the product
Wide space for fast and easy cleaning and a rear space to collect wasted material
Quick slice deflector opening system for an easy cleaning of the machine
White glass paste receiving tray and sliding meat table
Safety
Stainless steel full blade ring guard with manual opening system for best safety
Food grade aluminum back ring guard fixed for best safety
Black anodized aluminum ergonomic controls in comfortable position to maximize the grip and to minimize any effort for the operator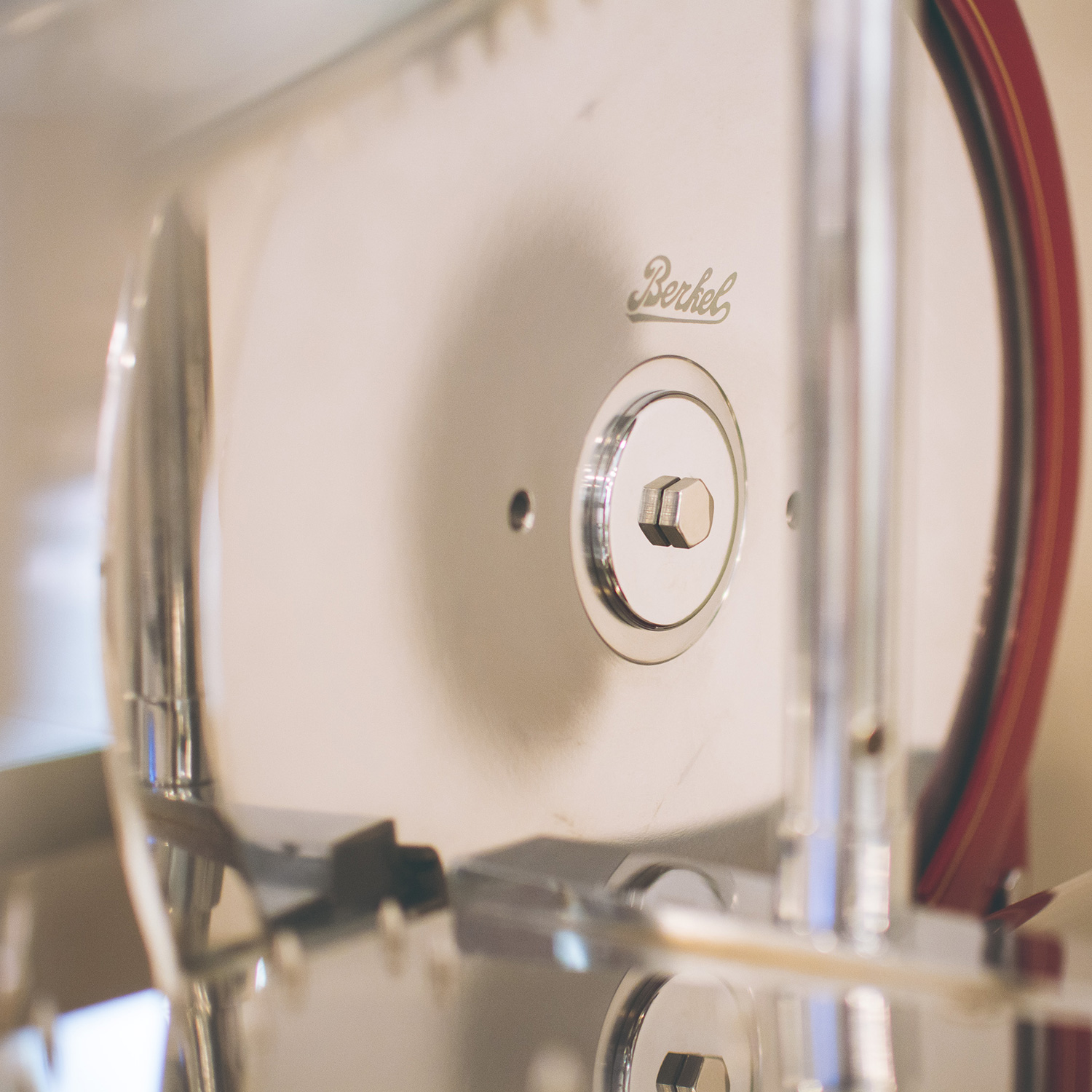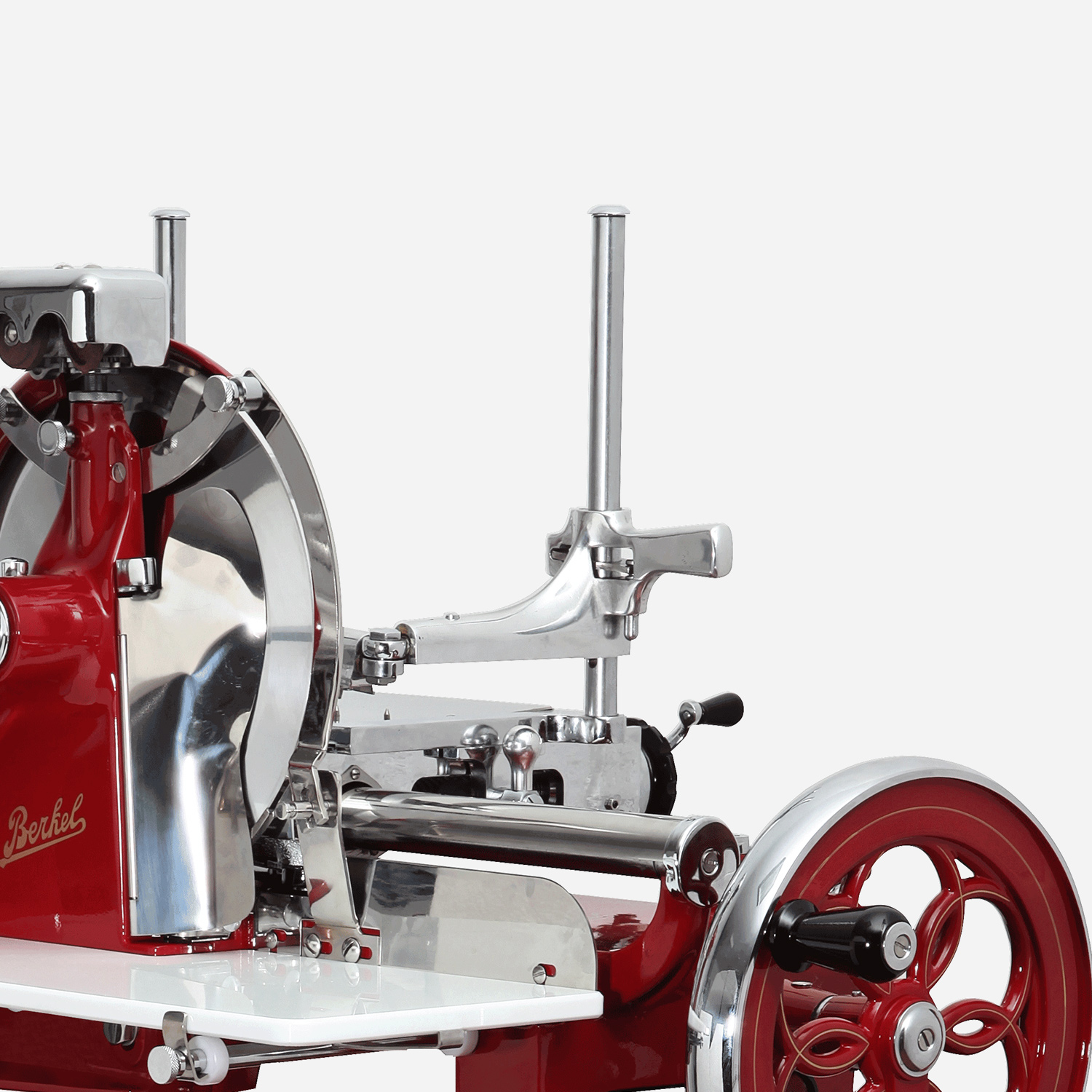 Technical data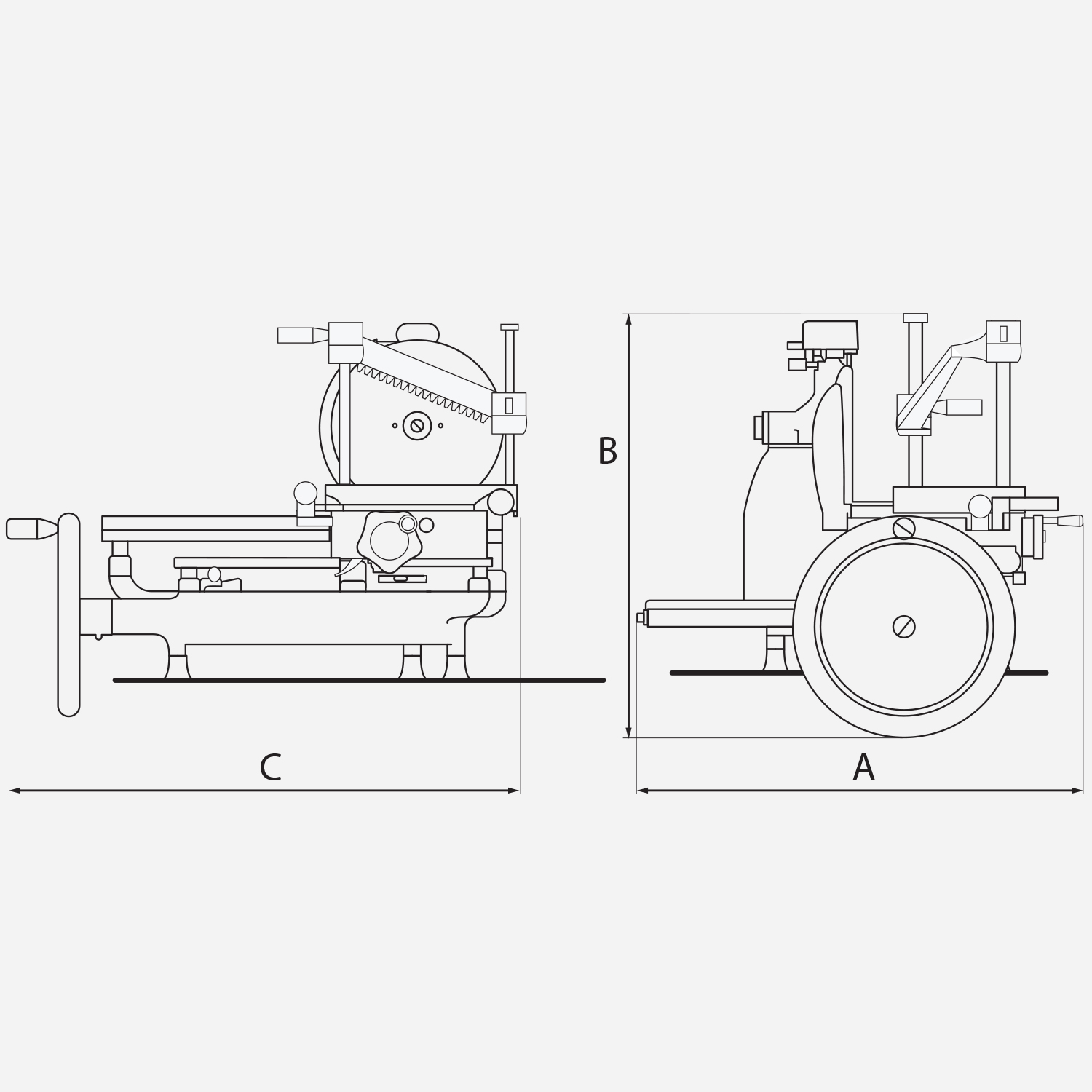 Blade diameter

285 mm

Blade material

100Cr6

Cut thickness

0 - 1.5 mm

Cut Capacity Circle

180 mm

Cut Capacity Rectangular

210x180 mm

Details

Slcier body made of cast iron

Removable parts

slice guard deflector; Receiving Plate; Meat table

Sharpener

included, 2-movements type
Add to Compare
Shipping charges
Shipment
Costs
Times
Europe
FREE*
Delivery in 6 working days upon receipt of payment**
Non-UE
Charged to the recipient,
according to the country of destination
*Shipping is free of charge for all EU Countries, for orders over € 150.00. Shipping costs are charged to the customer for all orders under this amount.
**Deliveries are made on working days, from Monday to Friday. No deliveries on holidays. For more exclusive products such as manual volano flywheel slicers, delivery times may vary and will be communicated upon receipt of payment. Delivery in Russia is not allowed.
-
Customer Care
For more information on the products, on the purchase, for assistance and spare parts you can
fill out the form