Cod.Art. BKL16VC900000000FR
The allure of revocation.
A century after the end of production, Berkel pays homage to an extraordinary model, the most widespread in the world. Today, the mythical L model is still entirely hand made, in perfect compliance with the historic design, characterised by majestic lines and precious details. Innovation has added the advantages of state-of-the-art solutions in terms of safety and functionality. Both in virtue of its impressive size and details introduced to ensure full compliance with standards, the L16 fly-wheel is a veritable work of art, ideal for the most expert professional use.
Read more
Disclaimer
Some details may be different from those shown in the photos. All prices include VAT.
Free Shipping over 150€ for all EU Countries
Details
Red L16 fly-wheel, the allure of revocation.
In painted cast-iron, with details in chrome-plated steel (such as the data plate with serial number, a detail worthy of only the most exclusive works of art), the L16 is a celebration of excellence, an expression of the the most refined Made in Italy.
In its classic Berkel red and, upon request, fitted with a characteristic en nuance cast-iron pedestal, the new fly-wheel slicer L16 offers a modern interpretation of Berkel style: small in size, refined finishes and continuously superior performance. In its tireless search for perfection, Berkel knows that state-of -the-art can only be achieved by seamlessly blending tradition and innovation: the only way to perpetrate the allure of an icon, the strength of a myth.
A few details may vary from the ones visible in the photo.
Performance
Reproduction of the legendary model L from the 900
Built in painted cast-iron with chromed steel details
Mighty Berkel flywheel with a chromed steel edge, traditional wood handle and golden marks in relief to enhance varnished parts
350mm diameter 100cr6 chromed steel blade with professional profile: reduces waste and ensures perfect slices.
Food plate quick advance and returning system combined with a manual millimetric knob for perfect product positioning
Food plate supported by 4 large wheels for a better stability during its movement which is driven by an inner plate and guided by a runner
Food plate rails in bakelite
Classic Berkel design of the tower, combining elegance and robust design
Gold color decorations to enhance varnished parts
Built-in sharpener with exposed chrome finishes
Gauge plate opening knob to adjust slice thickness from 0 mm to 2,7 mm
Very thin residual product to minimize wasted material
Chromed steel deflector for a better slices removal
Serial number tag plate
Cleaning & Hygiene
Stainless steel professional food plate with a detachable system for an easy machine cleaning
Adjustable product press holder composed of one fixed column on the back and a frontal mobile gear rack united by a serrated arm acting on the product
Wide space for fast and easy cleaning and a rear space to collect wasted material
Stainless steel removable receiving plate, dishwasher-safe
Safety
Stainless steel full blade ring guard with manual opening system for best safety
Fixed back ring guard for best safety
Stainless steel ergonomic controls and wood flywheel handle in comfortable position to maximize the grip and to minimize any effort for the operator
MORE INFO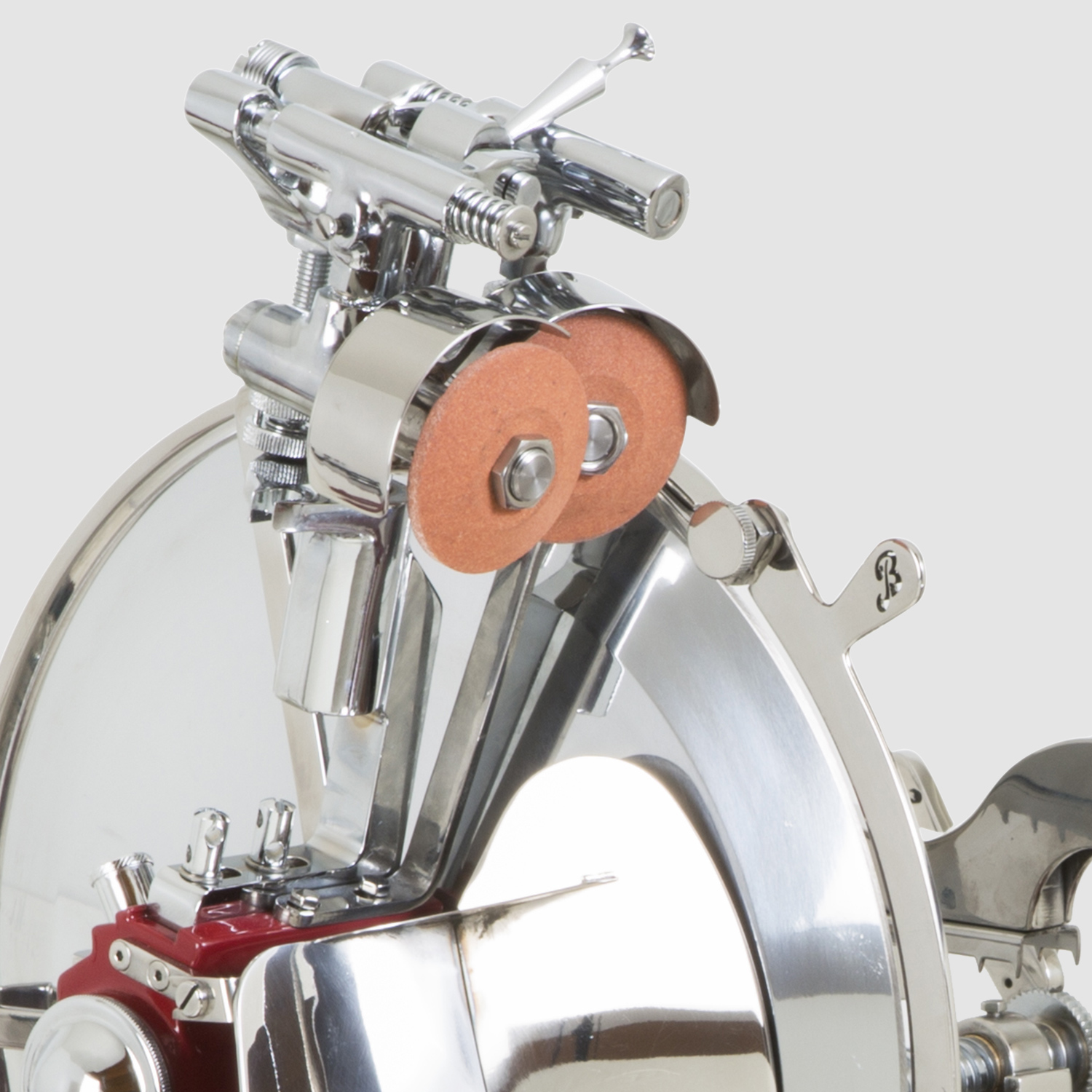 Technical data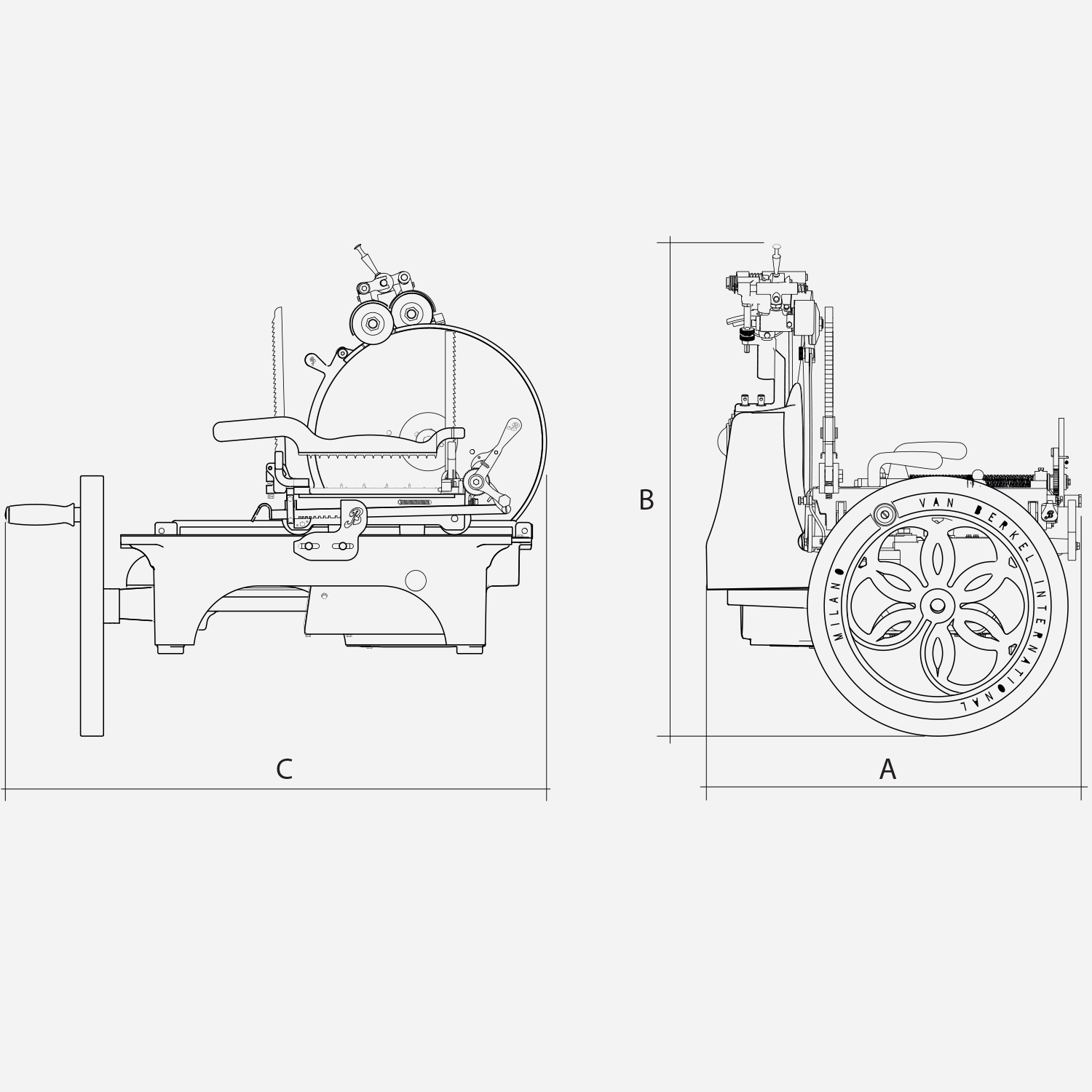 Blade diameter

350 mm

Blade material

100cr6

Cut thickness

0 - 4 mm

Cut Capacity Circle

210 mm

Cut Capacity Rectangular

260x200 mm

Details

Slcier body made of cast iron

Removable parts

slice guard deflector; Receiving Plate; Meat table; painted decorations and Berkel signature

Sharpener

included, one-movement type
Add to Compare
Shipping charges
Shipment
Costs
Times
Europe
FREE*
Delivery in 6 working days upon receipt of payment**
Non-UE
Charged to the recipient,
according to the country of destination
*Shipping is free of charge for all EU Countries, for orders over € 150.00. Shipping costs are charged to the customer for all orders under this amount.
**Deliveries are made on working days, from Monday to Friday. No deliveries on holidays. For more exclusive products such as manual volano flywheel slicers, delivery times may vary and will be communicated upon receipt of payment. Delivery in Russia is not allowed.
-
Customer Care
For more information on the products, on the purchase, for assistance and spare parts you can
fill out the form