There's a fine line 
Between darkness and light. 
Fine is the taste of the moments that we love the most.  
There's a fine line between the sensation to be and not just to exist.  
Fine is the passing of time when we're happy,
a line designed not to go unnoticed. 
It's something impalpable, that makes staying together truly special. 
These are the moments that will last forever. 
What makes life special, is a fine line. 
Home Line Plus, Berkel
TOP LEVEL PERFORMANCE, DESIGN AND SAFETY
Among the many new features of this model, the most striking one is its new design, combining aesthetic and functionality, according to Berkel tradition, in a modern and futuristic design. Moreover, its motor block ensures improved performance, even when slicing harder products.
Not to mention the blade cover with a continuous profile to ease the cutting movement and the gauge plate with a diagonal opening to help the slice to exit. The CE-certified safety lock and the revamped product pressholder  increase safety, minimising risks and ensuring fuss-free cleaning.
Home Line Plus comes in a cardboard packaging box featuring minimal design and graphics to reduce hard-to-recycle waste. The box will also include the easy-to-use blade removal.
Let's talk digital! The slicer will incorporate an NFC tag to allow consumers to access Berkel's extra content through their smartphones.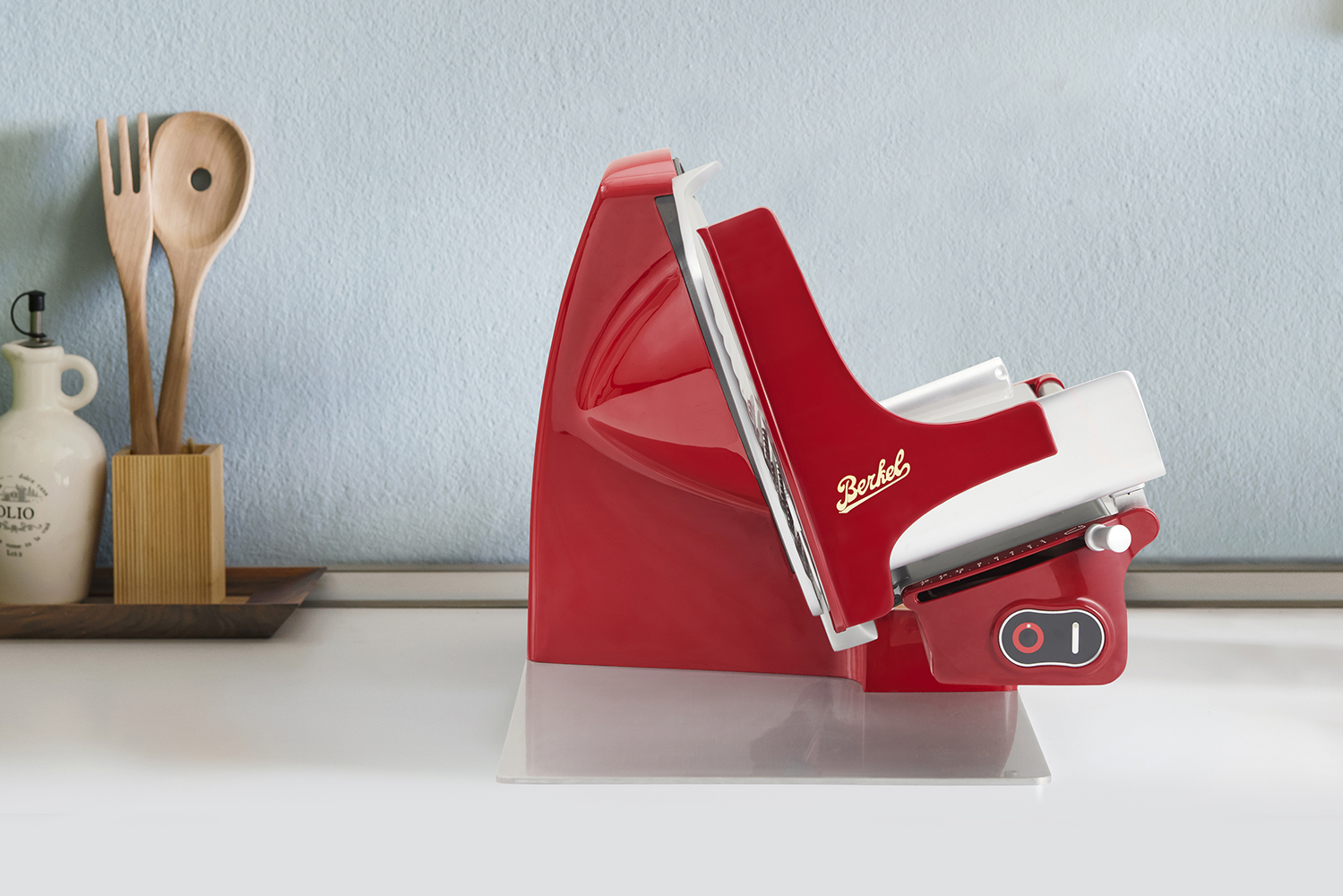 Performance
Very thin residual product to minimize wasted material

Gauge plate opening lever with 18 millimetric adjustment positions for an accurate regulation

Inclined food plate for an effortless and more precise slicing

Chromed steel blade with professional profile: reduces waste and ensures perfect slices

Professional engine 0,25 CV/0,19 kW for high cutting performance also for harder products

The product support reduces the space between the table and the gauge plate allowing the cutting product to lean completely on the meat table and minimize waste.

Specific aluminum alloy casting and baseplate, and polymer feet, for total stability during slicing

Fully IP65 sealed control panel

Blade extractor included
Cleaning & Hygiene
Rapid food grade aluminum blade cover removal system for an easy cleaning of the blade

Tiltable food plate for an easy machine cleaning

Easy removable product press holder dishwasher-safe
Safety
CE safety lock: when tilting the carriage, the thickness gauge plate remains closed to prevent the risk of cutting during cleaning operations

Automatic shutdown of the machine in case of power failure
BLADE COVER
with continuous profile to ease the movement of the cutting product
SLICE DEFLECTOR
incorporated and no way removable
DIAGONAL OPENING
of the gauge plate for improving the slice exit
BASEMENT WITH BACK BLADE GUARD
and blade remover included in the box to prevent waste gathering
NFC TAG
for digital extra content
EASY CLEANING
thanks to the tiltable food plate
SAFETY
ON/OFF switches with high visibility LEDs