Domestic slicer Home Line 200 PLUS Red
Cod.Art. BKHLCGB0010000000R
A revolution in the world of electric slicers
The originality of Home Line Plus lies in its innovative design: essential and rounded lines define almost futurist contours, exalted by unmistakable Berkel red. Designed to amaze, captivate and above all to be exhibited, its extraordinarily compact size successfully concentrates materials and features for safety and quality cutting inherited from the professional world.
Read more
Disclaimer
Some details may be different from those shown in the photos. All prices include VAT.
2 Power cords supplied with EU and CH plug; write here for more information.
Free Shipping over 150€ for all EU Countries
Details
Home Line Plus: Berkel brings Design in your kitchen with a modern and futuristic look. This line of domestic slicers is the synthesis of the know-how of the Berkel technical team, seeking for functionality and the high standards of safety and cleanliness. The chromed steel blade with professional profile offers a perfect cut by reducing waste and ensuring uniform slices. The blade guard with a continuous profile eases the slicing of the cutting product and the oblique gauge plate opening facilitates the exit of the slice for optimal performance. The engine block guarantees better performance even when cutting harder products. In addition, the integration of the CE certified safety lock protects and ensures quick and easy cleaning.
A few details may vary from the ones visible in the photo.
Performance
Very thin residual product to minimize wasted material
Gauge plate opening lever with 18 millimetric adjustment positions for an accurate regulation
Inclined food plate for an effortless and more precise slicing
Chromed steel blade with professional profile: reduces waste and ensures perfect slices
Continuous blade cover profile to improve product stability and to ease the movement of the cutting product
Oblique gauge plate opening to help the slice to exit in a more easy way
Professional engine 0,25 CV/0,19 kW for high cutting performance also for harder products
Integrated deflector to guarantee an easier detachment of the slice
The product support reduces the space between the table and the gauge plate allowing the cutting product to lean completely on the meat table and minimize waste.
Specific aluminum alloy casting and baseplate, and polymer feet, for total stability during slicing
Fully IP65 sealed control panel
Sharpener available for purchasing as optional
NFC tag: tap the yellow sticker to live the Berkel experience with exclusive contents
Cleaning & Hygiene
Basement with integrated back blade guard: a shell placed in the back of the blade limits the interstices to prevent waste gathering
Rapid food grade aluminum blade cover removal system for an easy cleaning of the blade
Tiltable food plate for an easy machine cleaning
CE certified safety lock: while the food plate is tilt, the gauge plate remains close to avoid cutting risks during the cleaning
Easy removable product press holder dishwasher-safe
Aluminum flat baseplate for total absence of space between slicer and table
Safety
CE certified safety lock: while the food plate is tilt, the gauge plate remains close to avoid cutting risks during the cleaning
Product support for additional blade safety during cleaning procedures
Professional control panel, ON/OFF switches with high visibility LEDs
Ergonomic controls in comfortable position to minimize any effort for the operator
Automatic shutdown of the machine in case of power failure
MORE INFO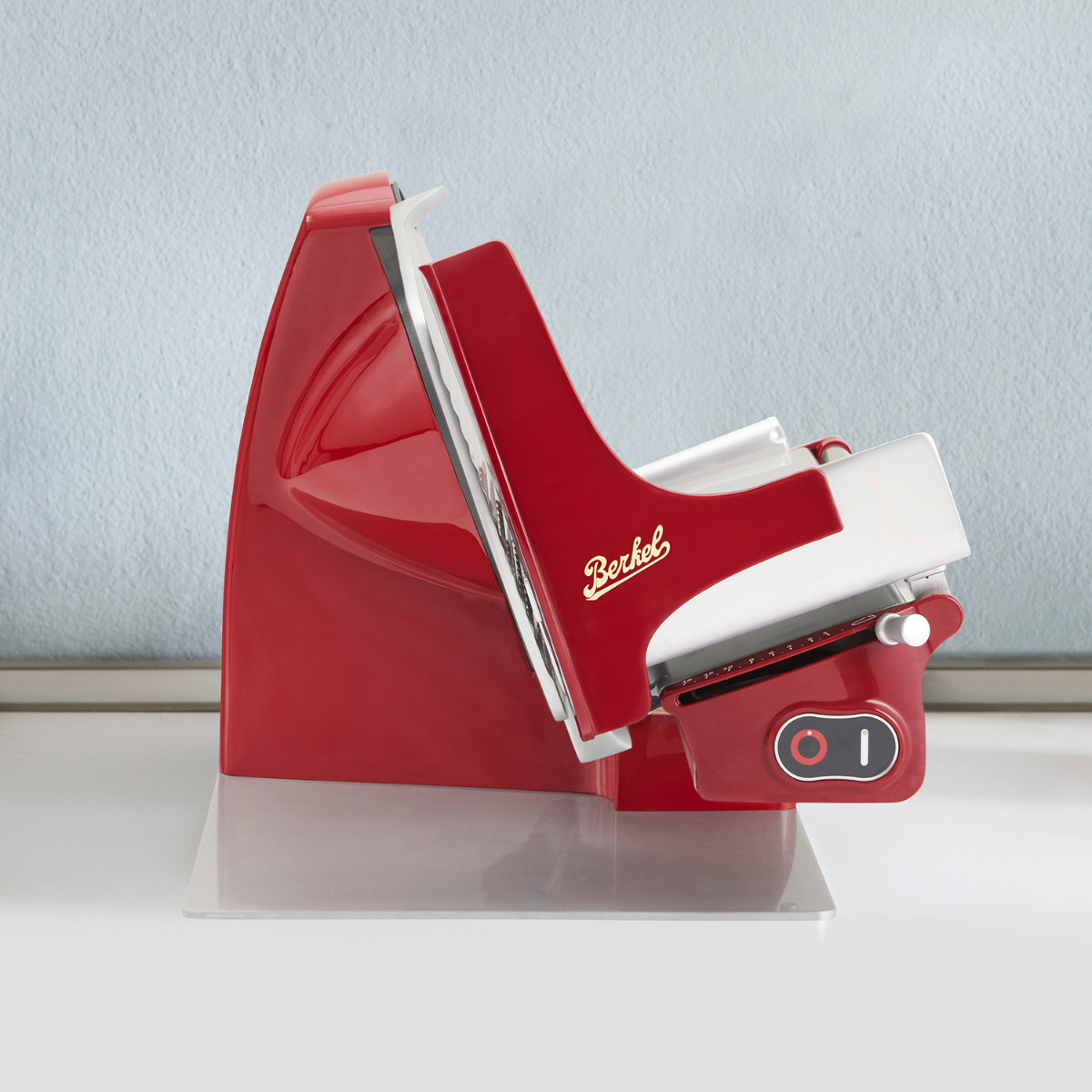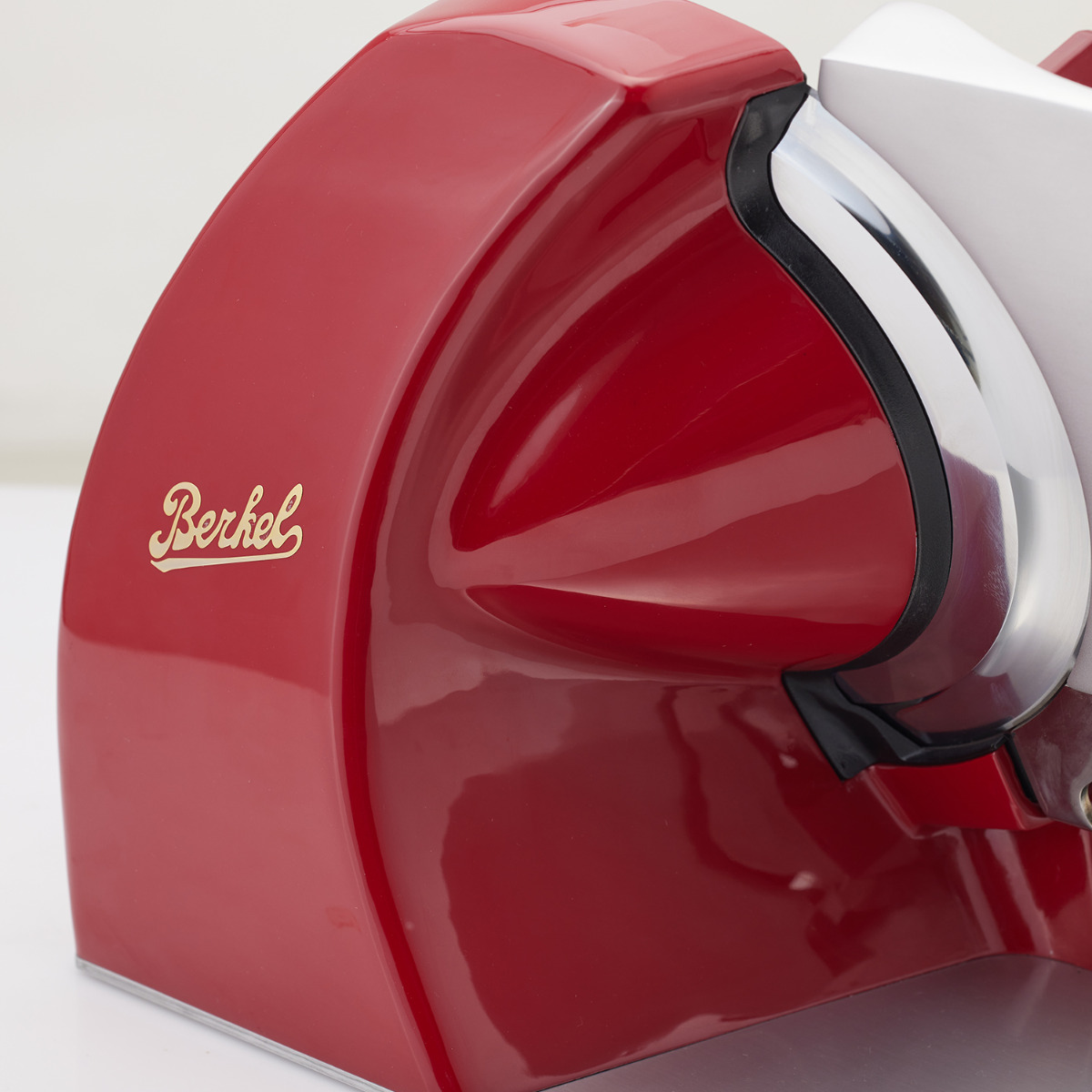 Technical data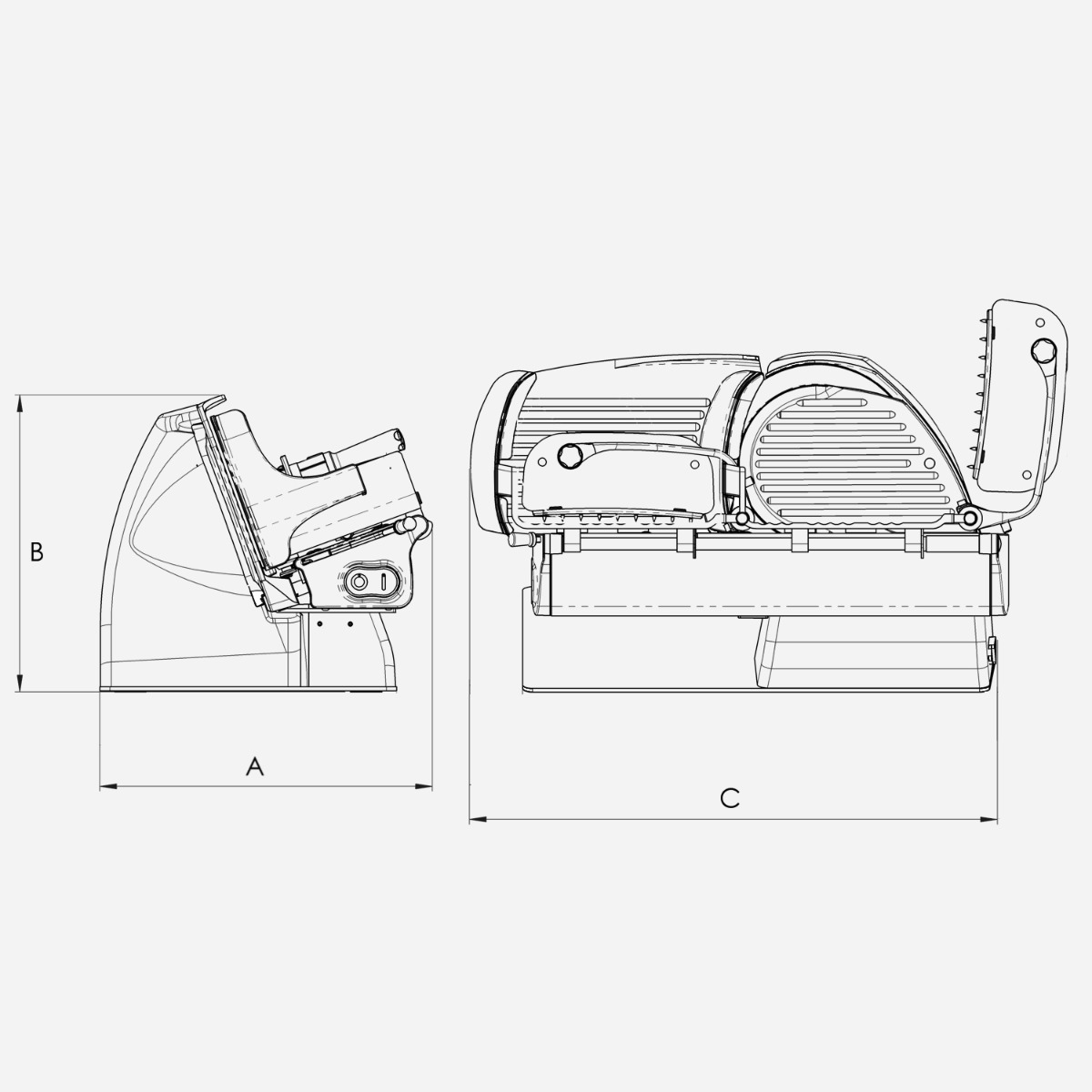 Blade diameter

195 mm

Plug

Cable supplied with EU and CH plug

Electrical specs

230 V 50 Hz

Motor rating

0,19 kW

Cut thickness

0 - 18 mm

Cut Capacity Circle

140 mm

Cut Capacity Rectangular

200x140 mm

Details

Oblique gauge plate opening system for better slices, continuous shape of the blade cover to ease the movement, back blade guard for reducing waste accumulation behind the blade, support product block for allowing the cutting product to lean completely and minimize waste.

Removable parts

Blade guard disk, product holder, meat table tiltable but not removable

Sharpener

not included, optional for sale

Blade remover

included for a deep cleaning
Add to Compare
Shipping charges
Shipment
Costs
Times
Europe
FREE*
Delivery in 6 working days upon receipt of payment**
Non-UE
Charged to the recipient,
according to the country of destination
*Shipping is free of charge for all EU Countries, for orders over € 150.00. Shipping costs are charged to the customer for all orders under this amount.
**Deliveries are made on working days, from Monday to Friday. No deliveries on holidays. For more exclusive products such as manual volano flywheel slicers, delivery times may vary and will be communicated upon receipt of payment. Delivery in Russia is not allowed.
-
Customer Care
For more information on the products, on the purchase, for assistance and spare parts you can
fill out the form